20/04/2023
Short Replaceable Tip Tweezers
With a
shorter body
, these tweezers provide easy access to hard-to-reach areas while maintaining precision. This new addition to our replaceable tip tweezers line expands our portfolio to meet all your needs.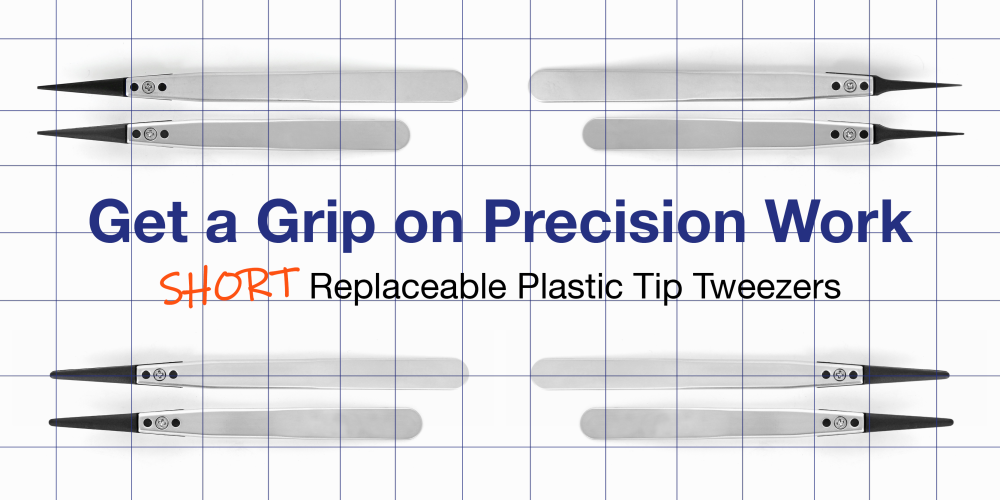 FEATURES
Length up to 115 mm (4.53")
Made of Carbon fiber (CF)
Different tip geometries
3 alignment points
ESD safe
BENEFITS
Very light without the excess bulk of longer tweezers
No scratching tip material
High precision tips with a perfect touch point
Easy and fast to replace (watch How to change replaceable tips video)
APPLICATIONS
Short Replaceable Tip Tweezers are designed to fit effortlessly into confined areas under a microscope or in a cleanroom environment. The soft plastic tips are excellent to handle sensitive electronic components, making them perfect for working with ceramics and glass where non-metallic, non-scratching tools are critical. From precision manufacturing to electronic assembly, these tweezers are a must-have for any biological and medical device applications, including laboratory setting.
​